Lipstick with Glasses is a great way to enhance a pop of color and bring attention to your face, but it can be tricky to wear when you also wear glasses. The frames of your glass can make it difficult to apply and maintain lipstick throughout the day. However, with a few tricks and tips, you can easily rock lipstick with your glasses. In this blog post, we'll cover how to wear lipstick with glasses, including tips on choosing the right lipstick shade, applying lipstick with glasses, and making your lipstick last all day.
Choosing the Right Lipstick Shade
The first step to wearing lipstick with glasses is to choose the right lipstick shade. When selecting a shade, consider the color and shape of your glass. If you have bold, colorful frames, you may want to choose a more neutral lipstick shade. On the other side, you can experiment with brighter lipstick colors if your frames are more understated. As a general rule, try to choose a lipstick color that complements your skin tone and makes your eyes pop.
Applying Lipstick with Glasses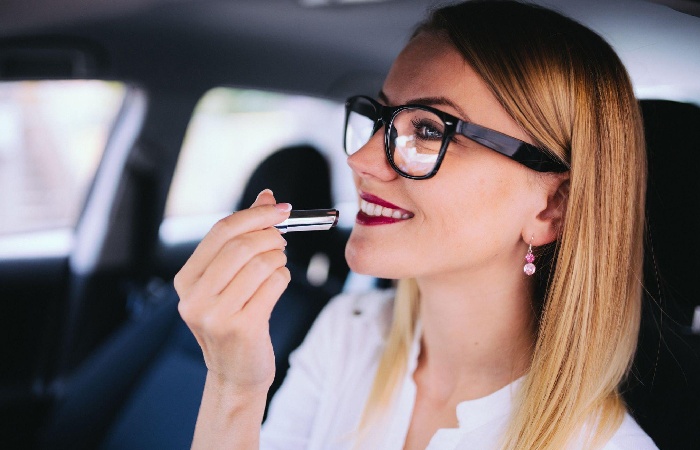 Once you've chosen your lipstick shade, the next step is to apply it with your glass on. Here is some advice to make the process easier:
Use a Lip Brush: Using a lip brush can help you apply lipstick more precisely, especially when you're wearing glasses. You can use the brush to fill in any gaps or to create a more defined lip shape.
Use a Lip Liner: A lip liner can help keep your lipstick in place and prevent it from bleeding outside of your lip line. Apply lip liner first, then fill in the rest of the lips with the lipstick of your choice.
Blot Your Lips: After applying your lipstick, blot your lips with a tissue to remove any excess product. As a result, your lipstick will remain longer and won't smear on your glasses.
Be Mindful of Your Glasses: When applying lipstick, be mindful of your glasses. You don't want to accidentally smear lipstick on your frames. Try to keep your lips away from your glasses until your lipstick has fully dried.
Making Your Lipstick Last All Day
To make your lipstick last all day, there are a few things you can do:
Use a Lip Primer: A lip primer can help your lipstick adhere better to your lips and prevent it from fading or smudging throughout the day. Apply the primer to your lips before applying your lipstick.
Use a Long-Lasting Lipstick: Look for lipsticks that are marketed as long-lasting or transfer-resistant. These lipsticks are designed to stay put for hours, even when you're wearing glasses.
Set Your Lipstick: After applying your lipstick, lightly dust a translucent powder over your lips to help set the color. This will help prevent your lipstick from smudging or transferring onto your glass.
Bring Your Lipstick With You: Even with these tips, your lipstick may still need touch-ups throughout the day. Be definite to bring your lipstick with you so you can touch up as needed.
In conclusion, wearing lipstick with glasses is all about choosing the right shade, applying it with precision, and making it last all day. By following these tips, you can easily rock lipstick with your glasses and feel confident and stylish.